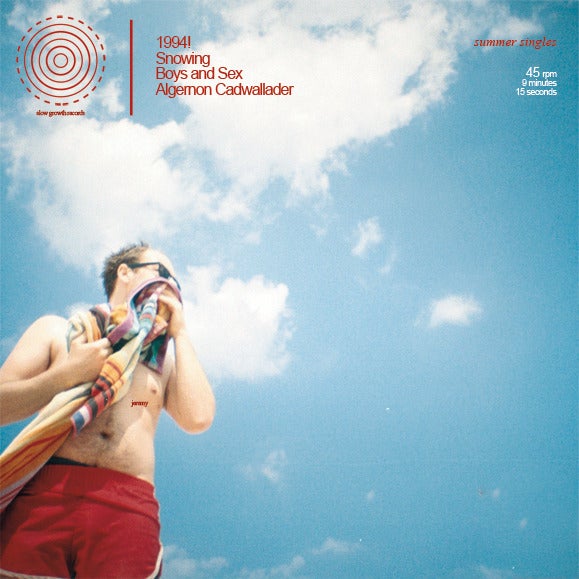 Personally, I am so stoked on this split. These are some of my favorite bands in screamo/post hardcore and to have them do a split together makes me all fuzzy inside. If you've been living under a rock for the past few years, and you need some good screamo to get into, any of these bands will tickle your fancy.
Tracklist:
1. 1994!- Proper J
2. Snowing- Big Weed
3. Boys and Sex- High Notes
4. Algernon Cadwallader- (Na Na Na Na) Simulation
Download it
now
and if you like it,
BUY
it!
[You can stream the album
here
]
"1994!, Algernon Cadwallader, and Snowing are touring the USA and beyond this summer (Boys and Sex will be at home, not doing anything). This 7" has a new song from each band. Support their tour: go see them and pick up a record!"
1994! / ALGERNON CADWALLADER / SNOWING SUMMER TOUR DATES:
MAY
* 18th Hagerstown, Maryland @ Right Choice Ministries w/ LOUD
* 19th Blacksburg, Virginia @ JAX 130 Jackson St w/ 1TBA
* 20th Charlotte, North Carolina @ Treasure Fest
* 21st Greenville, SC @ Suite 8
* 22nd Birmingham, Alabama @ Spring Street House w/ Fewer Moving Parts
* 23rd Jackson, Mississippi @ Doc 36 w/ Les Doux, Pockets
* 24th New Orleans, Louisiana @ Dragon's Den w/ Marathon
* 25th Houston, Texas @ Vinyl Junky Records
* 26th Denton, Texas @ Lion's Den w/ Final Club
* 27th Oklahoma City, Oklahoma @ Brass Bell Studios w/ Concussion Waltz
* 28th Albequerque, New Mexico @ Dad's House
* 29th Tempe, Arizona @ The Fixx Coffee Bar
* 30th Tucson, Arizona @ TBA
* 31st San Diego, California @ Che Cafe
JUNE
* 1st Long Beach, California @ TBA
* 2nd Santa Barbara, California @ Biko Garage w/ Lumber Lung
* 3rd San Francisco, California @ TBA
* 4th Berkley, California @ 924 Gilman
* 5th Redding, California @ Cafe
* 6th DAY OFF
* 7th Portland, Oregon @ Backspace w/ Duck Little Brother Duck
* 8th Seattle, Washington @ Healthy Times Fun Club w/ Jason Clackley
* 9th Spokane, Washington @ The Cretin Hop w/ Girlfriends, DLBD
* 10th Rexburg, Idaho @ TBA
* 11th Cheyenne, Wyoming @ Crawlspace w/ Spraynard
* 12th Boulder, Colorado @ Astro-Land
* 13th Lincoln, Nebraska @ Mad Ave. w/ The Dads
* 14th Wichita, Kansas @ The Naked City Gallery w/ Information Welfare
* 15th St. Louis, Missouri @ Cranky Yellow w/ Orion Pax
* 16th Bloomington, Indiana @ The Bishop w/ Good Luck
* 17th Louisville, Kentucky @ TBA
* 18th Chicago, Illinois @ Strangelight w/ Sohns, Innards
* 19th Grand Rapids, Michigan @ The DAAC
* 20th Columbus, Ohio @ Carabar
* 21st Pittsburgh, Pennsylvania @ Helter Shelter w/ Means to an End, Edhoculi
* 22nd Rochester, New York @ The Bugjar
* 23rd East Hampton, Massachusetts @ Flywheel
* 24th Scranton, Pennsylvania @ Redwood Art Space
* 25th New York, New York @ Archeron w/ The Greek Favourites